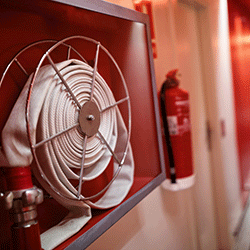 Look. Listen. Learn. Be aware. Fire can happen anywhere. ™ ---Considering religious organizations are used for a variety of purposes, this slogan from the National Fire Protection Association (NFPA) undoubtedly holds true.

Schools, churches, and halls may all be used to host meals, community events, or celebrations that lend itself to a potential risk of fire. The NFPA found that almost 30 percent of the fires in religious and funeral properties were caused by cooking equipment; with nearly one quarter of those fires beginning in the cooking area.

Safety in the kitchen is critical. Further statistics show that unattended cooking is the leading factor contributing to these fires. Frying poses the greatest risk of fire; and more than half of all cooking-fire injuries occurred when people tried to fight the fire themselves.

The NFPA recommends the following to "Cook with Caution:"

Stay in the kitchen while you are frying, boiling, grilling or broiling food. If you leave the kitchen for even a short period, turn off the stove.
If you are simmering, baking or roasting food, check it regularly; remain in the facility while food is cooking, and use a timer to remind you that you are cooking.
Be on alert! If you are sleepy or have consumed alcohol, don't use the stove or stovetop.
Keep anything that can catch fire — oven mitts, wooden utensils, food packaging, towels or curtains — away from your stovetop.
If you have a small (grease) cooking fire and decide to fight the fire … on the stovetop, smother the flames by sliding a lid over the pan and turning off the burner. Leave the pan covered until it is completely cooled.
For an oven fire, turn off the heat and keep the door closed.
If you have any doubt about fighting a small fire … just get out! When you leave, close the door behind you to help contain the fire.
Call 9-1-1 or the local emergency number from outside the home.
In addition, statistics also show that electrical distribution or lighting equipment caused 10 percent of fires, while lightning and candles each caused 4 percent of fires. Lit candles are used in religious services and caution needs to be considered.

The NFPA sets the following reminders:

Candles should be placed in a sturdy candle holder.
Handheld candles should not be passed from one person to another at any time.
When lighting candles at a candle lighting service, have the person with the unlit candle dip their candle into the flame of the lit candle.
Lit candles should not be placed in windows where a blind or curtain could catch fire.
Candles placed on, or near tables, altars or shrines, must be watched by an adult.
If a candle must burn continuously, be sure it is enclosed in a glass container and placed in a sink, on a metal tray, or in a deep basin filled with water.
Planning and practicing fire safety is key in reacting properly during an actual fire. Every facility should have a written plan in place that is practiced by all staff on a regular basis.