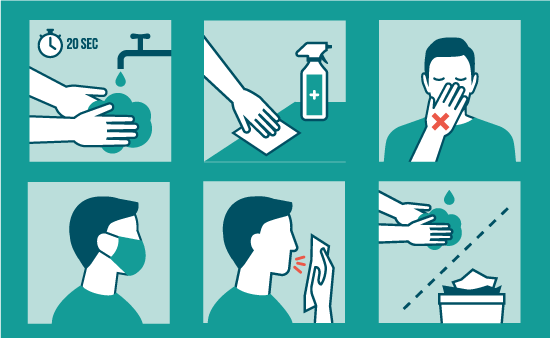 As the cold and flu season approaches and with COVID-19 concerns, good hygiene practices in the home and workplace are more important now than ever. You can find protocols for handwashing, masks, hand sanitizers, and cleaning in the Ministry Infection Control and Prevention Guide from Risk Management Services.

The Guide stresses the importance of continued education and best practices for pandemic hygiene and updating of resources as technology and research continues. The goal is to provide your organization with more insight on how best to manage your infection control and prevention measures to protect all who serve and those you serve in your ministry.

Contact Jeff Harrison, Director of Risk Control Services at 800.807.0100, ext. 2543 or email jeff.harrison@cbservices.org for more information.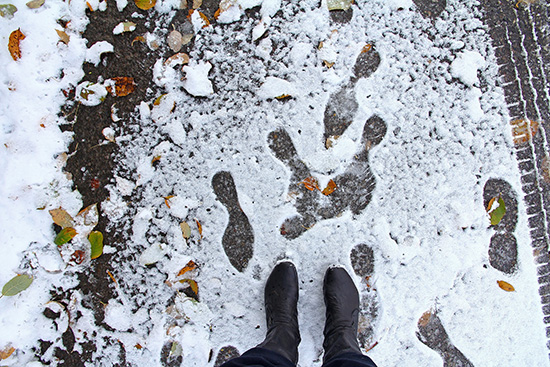 Fall and winter weather brings wet and icy conditions, which create the ideal environment for slips and falls. To avoid sending your employees and visitors to the emergency room with sprains, strains and broken bones, you need to take precautions.

Some reasons slip and trip accidents increase during the autumn and winter seasons include:
• There is less daylight
• Leaves fall onto paths and become wet and slippery
• Ice and snow build up on paths

There are effective actions that you can take to reduce the risk of a slip or trip. Chief among them is to promptly maintain regularly used stairs and walkways.

Lighting
As the daylight hours become shorter, it is important to check the lighting around your facility. Inadequate lighting can mask a variety of other dangers present, which could have been avoided with proper lighting.

Make sure there is enough lighting to see and avoid hazards that might be on the ground. As an additional measure, check that your automatic lights come on early enough and stay on long enough to light the way for employees working late or arriving early.

Wet and Decaying Leaves
Leaves look beautiful when they are on trees changing colors, but when they fall to the ground and are not property cleaned up, they can become very hazardous. Autumn rains can make leaves on the ground wet, heavy and slippery. Wet leaves can be almost as hazardous as ice, especially if they are on the tile floor of a building entry way.

Fallen leaves that become wet or have decayed can create slip risks in two ways: they hide any hazard that may be on the path, and they themselves create a slip risk. To ensure it is not forgotten, put in place a procedure for removing leaves at regular intervals.

Traction on outdoor surfaces can transform considerably when weather conditions change. Discourage employees and visitors from taking shortcuts over grass or dirt, which are likely to become slippery when wet.

Removing Ice, Frost and Snow
While the outside of your facilities collects the most damp leaves and snowfall, in winter all kinds of water and ice can be found inside near entryways. To reduce the risk of slips on ice, frost or snow, you need to assess the risk and put in a system to manage it.

The best way to remove ice from your sidewalks and parking lots is to melt it. Rock salt can stop ice from forming and cause existing ice or snow to melt. Use it or something similar on areas prone to be slippery in icy conditions.

You should salt when frost, ice or snow is forecast or when walkways will likely be damp or wet and the ground temperatures are at, or below, freezing. The best times are early in evening before the frost settles and/or early in the morning before employees arrive.

While salt works wonders on ice, remember that it doesn't work instantly; it needs sufficient time to dissolve into the moisture on the walkway. Also, if you salt when it is raining heavily, the salt will be washed away, causing a problem if the rain then turns to snow.

Identify Safe Pathways
Identify the outdoor areas used by pedestrians that are most likely to be affected by ice, e.g. building entrances, parking lots, pedestrian walkways, shortcuts, sloped areas, and areas that are always in the shade or wet.

Divert pedestrians to less slippery walkways using a barrier, and if you use warning cones, be sure to remove them once the ice/snow is gone, or people will ignore the signs. Let your employees know the safest paths to gain entrance to your building. If you can't tackle some paths regularly, let your employees know where you will focus your efforts.

Remind Your Employees to be Careful
Even after you take precautions to make your sidewalks and parking lots safe, your employees still must take safety measures of their own. Remind your employees of the importance of appropriate winter and wet weather footwear. Shoes that provide traction on snow or ice are important. Rubber soles and boots or shoes with grip and texture can help keep people stable on ice and snow. Plastic or leather soles are not good choices for icy conditions.

Here are some other tips to remind your employees of to help them avoid outdoor falls:
Keep hands free. Wear gloves to help keep hands warm and out of pockets and to better catch themselves by using their hands or arms should they fall.
Don't get distracted with a cell phone while walking in icy conditions.
Take smaller, shorter steps when walking for stability. If conditions are extra slippery, try shuffling along slowly without picking up feet, in a gliding type motion.
Use handrails if available. Having something stable to hold on to can make a big difference should they slip.
Watch for slippery floors inside. Many slip accidents happen at building entrances as people entering the building walk in rain or snow. Consider installing large, absorbent mats or even changing the entrance flooring to one which is non slip.
Christian Brothers Risk Management Services has developed the Slip. Trip. Fall. Prevention Resource Toolkit to provide resources to help your organization implement appropriate controls to manage slip, trip and fall hazards. These resources include Sample Policies, Best Practices, Checklists and Guidelines for Accident and Incident Investigation.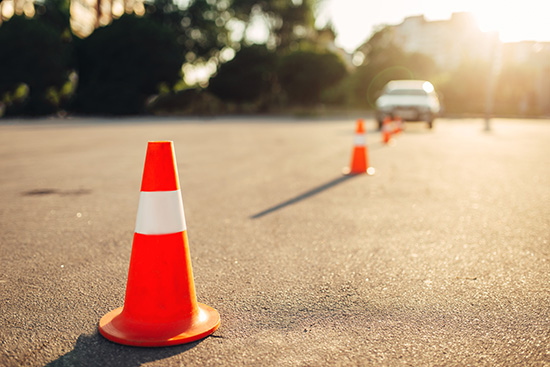 Creating a culture of safe, responsible driving for your organization is an important task, but it's hard to know where to begin, especially when the liability falls on your shoulders. Implementing a driver awareness training program is an excellent way to reduce your fleet risk, and promote safe, responsible driving.

Awareness training courses help drivers develop the attitude and behaviors necessary to manage today's driving situations in the safest way. But even after your drivers have completed their initial training, it is critical that you establish an ongoing driver awareness training program. Ideally this ongoing program should be presented to your drivers every two years.

Why every two years?
Training every two years helps to ensure all your drivers receive the most up-to-date information and keep their skills sharp. Your drivers should be refreshing their skills to:
Review safety fundamentals before bad habits take over
Learn to control anxiety and negative feeling while behind the wheel
Practice making sudden decisions
Find ways to avoid a collision, regardless of who is at fault
Utilize new safety features of cars that drivers have never used before
Providing awareness training every two years benefits your organization by:
Keeping both your religious drivers  and employees safe on the road, while serving in ministry or off on vacation
Decreasing the risk of motor vehicle collisions and traffic violations
Minimizing your exposure to liability risks and costs
Lowering fleet insurance premiums, workers' compensation and accident claims
Lowering vehicle repair bills and replacement costs
Benefits of Online Awareness Training
Online driver awareness training courses offer some advantages over in-person classes, including:
Cost. It isn't necessary for your drivers to drive or find transportation to a traffic school.

Flexibility. The online course is on-demand, so your drivers can take the class and find essential material and resources anytime, anywhere.
Ability to review. Online modules are designed so that drivers can go back and review previous topics at any point during the program should they have questions or wish to refresh certain sections.

Christian Brothers Risk Management Services offers two online awareness training modules for member credit for Risk Pooling Trust (RPT) members. Driver Awareness Training is a module targeted toward anyone who drives. The goal of this program is to help any driver reduce the risk of having an accident while increasing their awareness to different causes of accidents; the mistakes that drivers make and how to drive accident free. The program reviews and discusses 19 major areas of safe driving.

Driver Awareness Part II: The Mature Driver is a module specifically for religious drivers, age 55 and older. This program will help drivers better understand physical and mental changes that occur to the body resulting from the normal aging process, danger signs to look for when it is time to stop driving altogether, and how to best navigate parking lots, intersections and expressways. Drivers will learn a number of safe stopping practices and understand the importance of making good choices.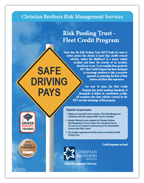 Fleet Credit Program
As an additional way to encourage RPT members to take a proactive approach in protecting the lives of their drivers and their fl­eet exposures, we developed the
Fleet Credit Program
. Through the years, this program, which is available to all members who have vehicles covered by the RPT, has saved members hundreds of thousands of dollars in contribution credits.
The Fleet Credit Program offers two types of credits to RPT members:
Driver Awareness Training
and
Behind the Wheel Driver Evaluation
.
For Driver Awareness Training, a $50 credit will be given for each documented individual who attended an approved driver awareness training program. The number of credits available equals the number of vehicles covered over a rolling two-year period.
The
Behind the Wheel Driver Evaluation Program
assists members of the RPT in identifying their organization's at-risk religious drivers. We designed the program for religious drivers who are at least 80 years of age. A credit of up to $175 will be provided for each religious driver who has been evaluated by an approved, behind the-wheel evaluator that has been paid by the member directly.
As we continue our partnership with members in developing programs designed to minimize risk exposures associated with vehicle operation, we hope to encourage the safe driving skills necessary to eliminate injuries to both our drivers and others with whom we share the roadways.
To provide communities with information, suggested guidelines, and specific resources to assist with the monitoring and management of religious community drivers we have developed the
In-House Managing and Monitoring of Religious Drivers Toolkit
.
For more information on programs tailored to meet the unique exposures and needs of your ministry, visit
Christian Brothers Risk Management Services
.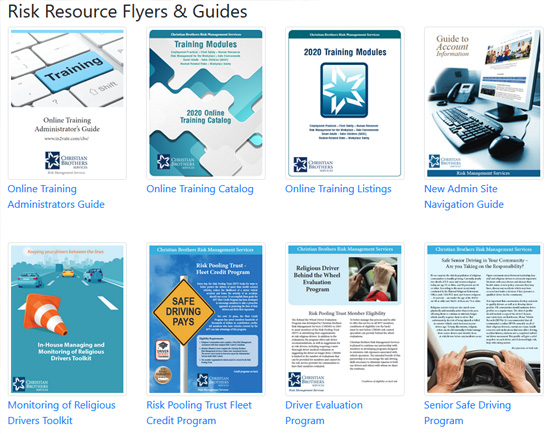 Did you know there is a place to find risk management resources and toolkits for free in one convenient location? The Risk Resources Flyers & Guides page on the Christian Brothers Services website is your go-to place to find information on a wide variety of topics.

Guides and Catalogs
For administrators, the Online Training Administrator's Guide is available to answer all your questions about logging in and updating your account. The guide gives you step-by-step instructions on how to add users and assign them to online training modules. There are instructions on how to send reminders to users about upcoming training, how to run training reports, and set up user profiles.

The 2020 Online Training Catalog is a complete listing of all the online training courses available for Employment Practices, Fleet Safety, Human Resources, Risk Management for the Workplace, Safe Environments, Smart Adults - Safer Children (SASC), Student-Related Risks, and Workplace Safety. The catalog also lists all the risk management videos and recorded webinars available for on demand viewing. There is also a quick reference sheet available that lists all the available online training modules. These training modules are free for all Risk Pooling Trust members to use.

If you are a new administrator or if you have questions about your account, the New Administrator Site Navigation Guide is for you. This guide explains in simple terms how to access your organization's account information online. It includes a tutorial on how to register for web access with step-by-step illustrated instructions. The guide also provides you with visual prompts for navigating all the administrator menus for Schedules, including Vehicle, Property, Builder's Risk, and Watercraft Schedules. You will also find instructions for the Certificate of Insurance, Underwriting Documents, and Auto Insurance ID Cards screens and be able to see your Claims History and Summary, a Claim Summary Report, and How to Report a Claim.

With COVID-19 affecting the reopening of workplaces, the Ministry Infection Control and Prevention Guide is a must-read. This guide helps your organization develop or continue to improve upon your existing Infection Control and Prevention Plan and provides you with more insight on how best to manage those measures to protect all who serve and those you serve in your ministry. It includes sections on responding to employees who may have COVID-19, workplace controls and staff protection, social distancing, and ongoing cleaning and disinfecting guidelines. There are also printable/customizable cleaning and disinfection schedules for various areas of your facilities.

Toolkits
The RPT also has produced a broad range of Toolkits, each written and designed to provide members with timely information on current workplace safety guidelines.
The Slip. Trip. Fall. Prevention Resource Toolkit provides the most up-to-date information available on policies and best practices to avoid workplace accidents. It's all covered here: Stairs and Ramps; Sidewalks and Walkways; Parking Lots, and Ladders. Wherever accidents can occur—entranceways, restrooms, offices, and on every type of flooring—this Toolkit has you covered.
The Security Preparedness Resource Toolkit has everything your organization needs to apply appropriate controls to manage workplace violence, security and active shooter/active threat situations. This toolkit includes a self-assessment on security preparedness and a physical security self-inspection checklist that will help you ensure your organization is taking the proper safety measures.
The Monitoring of Religious Drivers Toolkit includes resources and suggested activities to assist Religious communities with either developing or upgrading their existing programs as it relates to religious driver management.
Information on our extensive lineup of Vehicle Risk Management Programs is also included on the resource page. Flyers on the Senior Safe Driving Program assist RPT members in identifying their organization's at-risk religious drivers. Fleet managers will find informative flyers for the RPT Fleet Credit Program and the ePlan Motor Vehicle Report to help members monitor their drivers.

The next time you are looking for information on your account or the most current safety guidelines and best practices for your organization, find it on the Resources, Flyers & Guides page. Bookmark it today!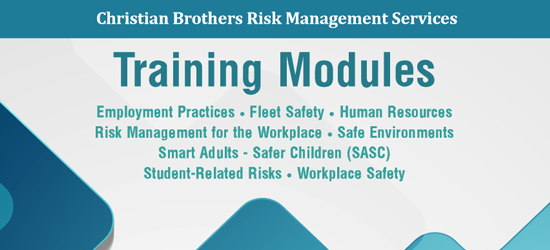 New Modules:
Conflict Management in the Workplace (Employees)
Conflict Management in the Workplace (Managers/Supervisors)
Cybersecurity Awareness in the Workplace
Workplace Violence (Employees
Mandated Reporting for Child Abuse - California Spanish
Mandated Reporting for Child Abuse (Schools K-12)
Mandated Reporting for Child Abuse (Schools K-12) Spanish
Mandated Reporting for Child Abuse Spanish
Sexual Harassment and Discrimination - Employees (Connecticut)
Sexual Harassment and Discrimination - Employees (Illinois) Spanish
Sexual Harassment and Discrimination - Supervisors (Illinois) Spanish
Sexual Harassment and Discrimination – Employees (Louisiana)
Sexual Harassment and Discrimination – Supervisors (Louisiana)
Risk Factor is a bi-annual newsletter produced by Christian Brothers Risk Management Services.
You can view past issues of Risk Factor here.
For more information on Risk Management Services programs, visit cbservices.org.