April is Distracted Driving Awareness Month in the U.S. Cell phones, dashboard touchscreens, voice commands and other in-vehicle technologies pose a threat to our safety when driving. According to the U.S. Department of Transportation, at any given moment across the U.S., approximately 660,000 drivers are using or manipulating electronic devices while driving.
Help your drivers understand the dangers of distracted driving. Christian Brothers Risk Management Services offers a variety of online training modules that can educate drivers on best practices that will minimize their risks and maximize their awareness behind the wheel.
Contact Beth Edwards, Risk Services Administrative Specialist at 800.807.0100, ext. 3075 or email beth.edwards@cbservices.org for more information.
There are many methods your organization can employ to help prevent workplace slips, trips and falls. One way to limit the chances of workplace injuries is by paying attention to what is on your floors. The use of strategically placed floor mats and other related products can provide several safety benefits. 
Mats are useful in removing water, dirt and other contaminants from shoes that could contribute to slip, trip and fall accidents. Implement a mat safety program and define which types of mats are used when and where.
What should you look for in a floor mat?  
A floor mat should have a slip-resistant rubber backing that prevents the mat from moving across the floor. 
Dry and wet-area floor mats can be made with beveled edges and special tread patterns that provide sure footing. This additional traction reduces the risk of slips, trips and falls in heavy traffic areas where accidents normally occur. The color should contrast with the floor for easy visibility.
Characteristics of good mats include:
Slip-resistant surface on both top and bottom sides
Beveled edges, flat edges or similar design to help reduce the likelihood of workers tripping on the mat's edges
Antibacterial treatment or similar design to help prevent the growth of mold and mildew
Industrial-grade mats specifically constructed to lie flat and stay put should be used. Look for "high traction" mats such as those certified by the National Floor Safety Institute (NFSI).
At entrances, an effective mat system uses both an outdoor and indoor mat. Scraper mats with raised rubber cleats outside entranceways remove heavy dirt and moisture first. Inside, carpet-topped walk-off mats trap any residual dirt and moisture. Walk-off mats may also be positioned in all interior heavy traffic areas to help contain soiling and moisture even further.
Slip, Trip and Fall Prevention Strategies
Mats only are effective if properly used and maintained. Old or poorly placed mats can actually contribute to slips, trips and falls. Keep these strategies in mind when you are deciding what types of mats to use and where to use them:
Use non-slip mats in areas where employees may routinely encounter wet flooring
Use beveled-edge, flat, and continuous or interlocking mats
Replace mats that are curled, ripped, or worn; secure edges with carpet tape if needed
Secure mats from moving
Paint small markers on the floor to remind staff to lay mats in the correct position everyday
Employees aren't the only ones susceptible to slips, trips and falls. Visitor areas also should be equipped with safe flooring. Mats and runners at facility entrances should be sufficiently large so that several footsteps fall on the mat, cleaning contaminants off the shoes, before the shoes contact the flooring. Place additional mats at entrances during periods of ice, snow, and rainy conditions. Common problems with mats and runners are that they are easily oversaturated during bad weather events; they shift, their corners get flipped and they buckle. An adhesive-backed floor mat can be used in place of traditional entrance and transition zone mats to improve safety and eliminate slip, trip and fall hazards.
If there is water on the floor beyond the last mat, additional mats or runners also may be necessary. Change these mats regularly to ensure those in place are dry. Clean and maintain these floors according to the manufacturer's specification, and always place wet floor signage at entry and exit points to make known the potential slip, trip and fall threat.
Falls are preventable and their cost is a lot more than just money. Lost production time, damage to an organization's reputation, poor workplace morale and interrupted service are just some of the negative consequences of slip, trip and fall injuries. A floor safety maintenance program that includes proper floors mats in your facilities is an important step to ensure a safe workplace for your employees and visitors.
For more information on best practices to avoid slip, trip and fall accidents, download the Slip. Trip. Fall. Prevention Resource Toolkit from Christian Brothers Risk Management Services.
Windshield wipers are a small part of a vehicle, but they make a big impact on driving and overall safety. While they are probably not the first thing that comes to mind when you think about the cause of vehicle accidents, windshield wipers are essential to the safety of drivers. Most people don't give their windshield wipers much thought—until there is a problem.
When they function properly, your vehicle's wiper blades will keep your windshield clear of water, dirt, and debris by wiping it off the glass. When you are caught in a rainstorm while driving, you depend on the wipers to clear the windshield and improve visibility. During a serious downpour, water on the road already makes it more difficult to stop or control your vehicle, so when your vision is obstructed, too, you have a recipe for disaster.
Sometimes windshield wipers on your vehicles have to operate for hours at a time. Over time, wipers will crack, lose form and lose their flexibility and functionality, leading to dangerous situations on the road. Replacing wiper blades before they become damaged or cracked can decrease the chances of accidents and save you the cost of repairing or replacing scratched windshields.
When to replace wiper blades
Manufacturers typically recommend changing wiper blades every six months or up to once a year, but your own driving conditions might call for more frequent replacement. You might also need to change your blades more frequently if your vehicles are in a hot and sunny climate where dry heat and ultraviolet radiation can break down the rubber blades more quickly, causing them to crack or warp. Cold weather causes the blades to become brittle and crack; icy conditions can cause them to stick to the glass and damage them.
Don't be caught in a situation where your drivers have to replace windshield wipers in the middle of a rain or snowstorm or in the dark. Check and replace wipers blades on a regular schedule. Set a reminder on your phone or computer to inspect wiper blades at specific times, such as the start of each season. During periods of extreme weather, inspect the wipers every month.
Signs wiper blades need replacing
Change your wiper blades as soon as you notice bad visibility, but know there are other signs of wear and tear indicating it is time for replacement.
The most common signs that you need new windshield wipers are
Squeaking or chattering sounds when in use
Skipping motion in the wiper's movement
Streaking, smears or gaps of moisture on your windshield
Reduced driving visibility, even with the wipers in motion
If you want to check wiper blades visually, inspect the following:
Detachment of frame arms at joints or connection points
Corrosion of the joints, claws or any other areas
Cracks, tears or missing pieces
How to change wiper blades
Check the vehicle's manual for specific instructions, but the steps for changing wiper blades are:
Remove the old blades. Lift the wiper, turn the blade perpendicular to the arm and locate the release tab or clip. Pull up on the clip or press down on the release tab. Most blades will then slide right off.
Put on the new blades. Slide the new blades on in the opposite way that the old ones came off. You should hear a click, or at least feel that it's snapped in, to confirm that the blade is now properly installed. On blades with a clip, you may need to close the clip to lock the blade in place. Rest the wipers against the windshield.
Test the new blades. Give your windshield a squirt of windshield solvent (this is also a good time to fill the solvent reservoir) and test out the new blades.
Regular maintenance is necessary for any vehicle to run smoothly. Include wiper blade inspections to your vehicle maintenance checklist to ensure safe, clear vision. And don't forget the rear windshield wipers!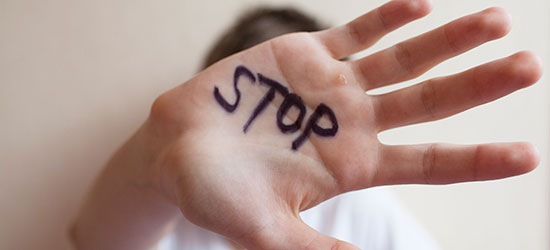 Workplace sexual harassment is a serious issue with real costs for offenders and victims alike. However, they are not the only ones involved in a workplace sexual harassment incident. Sexual harassment affects your entire organization and opens it up to liability issues.

Employers must take steps to provide employees with training that educates and makes them aware of ways to prevent sexual harassment in the workplace. Sexual harassment incidents not only negatively impact an organization's culture, but they expose workplaces to damaging consequences, including:
Penalties and fines
Lawsuits, legal fees, and settlement costs
Reduced employee morale and productivity
Long-lasting reputational damage
Personal liability for offenders, including possible criminal charges
Employee Training can be a Challenge
Providing workplace sexual harassment prevention training can be a difficult task for employers. Employers with locations in more than one state can face a confusing array of requirements. Depending on the state, training could be mandated by law; required, but only if the company employs a set number of workers; recommended, but not required; or not required at all.

Some states also have mandated the length of training sessions. Six states (California, Connecticut, Delaware, Illinois, Maine and New York) have their own state laws specifically addressing sexual harassment.

Besides the regulatory issues, employers also need to contend with employees who look at mandatory sexual harassment prevention training as an unwanted disruption to their day, or even as a punishment for something they did not do. How can employers proactively educate their workers on this important issue with minimal disruption and maximum efficiency? The answer for many employers is online training.
The Benefits of Online Training
Online sexual harassment prevention training provides employees with a hands-on, interactive way to learn. Online training is:

Flexible—Online training allows employees to learn at their own pace and at a time convenient to them. Each employee can log in and out and track where they left off. For employers, online employee training means the programs are always available across multiple locations, wherever there is an internet connection.

Comprehensive—Online training allows employees to view videos and see examples of inappropriate behavior in an interactive platform.

Documented—Online training makes tracking employee results easier and allows employers to see which employees have completed the training. If there is a subsequent problem with an employee, the employer can go back and reference when that employee went through their online training.
What should you look for in an online training program?
To get the best results from an online program, the training has to be engaging, relevant, practical and interactive.

An effective online training program should also:
Be easy to use
Cover all pertinent regulations
Align with your organization's mission and values and be consistent with your policies and practices
Give examples of behaviors that make up harassment, including nuanced situations that employees may encounter in the workplace
Address root causes of harassment and other issues in a way that makes sense for your organization
From the time employees join your organization to their retirement, sexual harassment training should be an ongoing, proactive, and regular part of their employee training.

Christian Brothers Risk Management Services offers convenient, one-stop assistance for employee training programs. We can help you manage your employee state sexual harassment training programs by uploading employees, assigning training to current and new employees and providing you with training completion reports.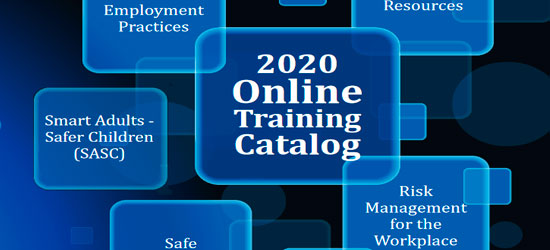 New modules:
Sexual Harassment and Discrimination Employees - Illinois version
American Disability Act (ADA) – Higher Ed
Child Abuse Mandated Reporter - Countrywide version
Child Abuse Mandated Reporter - California version
Updated modules:

Sexual Harassment and Discrimination Supervisor - Illinois version