Catholic School Management
Catholic School Management Letter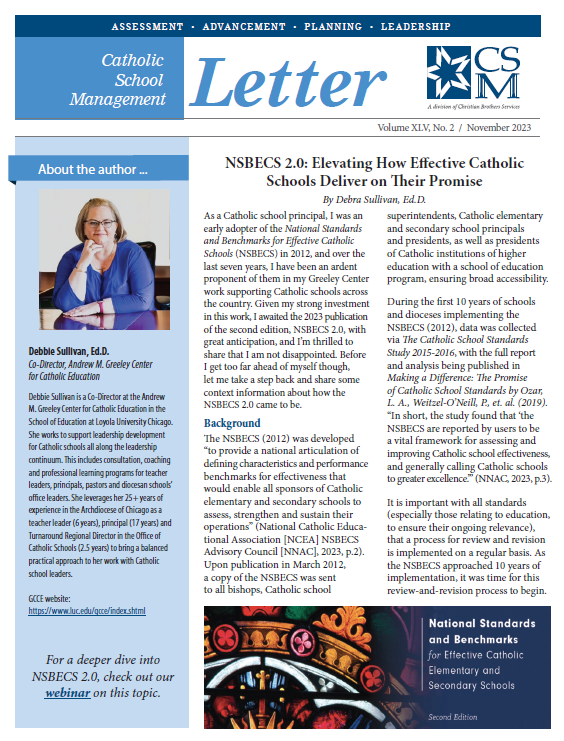 Download Current Issue

The Catholic School Management Letter (CSML) offers in-depth, research-driven experience and guidance on timely and topical issues of Catholic school administration. CSML is written by experienced professionals, specializing in Catholic school planning, strategy and leadership. Each issue is carefully researched and organized so that your reading time yields maximum benefits.

Previously offered on a paid subscription basis, the Catholic School Management Letter is now a free resource to enable more school personnel to advance their understanding of contemporary best practices and move their schools to the next level of excellence. To receive the CSML, sign up here. Each issue will be emailed to you with the option of either downloading a PDF or linking via our website.

Who should sign up? Presidents, principals, board members, faculty, advancement staff, volunteers - all those who are working with you to help your school flourish.

Issues from the past five years are available for download from this webpage. If you are interested in an earlier issue, (see the Index by Date), contact us at csml@cbservices.org and we will gladly send it to you. You can also review our Current Issue and Recent Issues.

CSML topics include...
Marketing
Academics/Student Affairs
Enrollment Management
Faith Community Affairs
Development/Fundraising/Alumni
Technology
Governance
Business
The Catholic School Management Letter helps you keep fresh and new ideas flowing when you're consumed with the daily demands of your job.
Sign up now for this valuable resource.
©Copyright 2023 Christian Brothers Services