Christian Brothers Services names new President/CEO
Christian Brothers Services names Patrick C. Lynch, CFA, President/CEO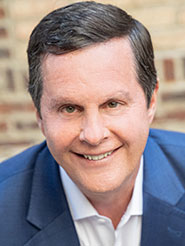 Romeoville, Illinois, May 31 2022—Christian Brothers Services (CBS) has announced that Patrick C. Lynch, CFA, will join the company on July 5, 2022. Lynch will be the fourth President/CEO in the company's 62-year history, and the first layperson in the role for CBS, which operates in the Lasallian tradition of Saint John Baptist de La Salle, the founder of the Brothers of the Christian Schools. He follows CBS founder Brother Joel Damian, FSC, Brother William Walz, FSC, and retiring President/CEO Brother Michael Quirk, FSC, Ed.D, in the position.
Lynch, of Chicago, was named President/CEO following an extensive nationwide search and an interview process conducted by the CBS Board of Directors. With three decades in the financial services and banking industries, Lynch brings an impressive professional background to the position, including serving 21 years as Founder, President, & CEO of Chicago Equity Partners. That company, formerly a division of Bank of America, became a fully independent boutique investment advisory firm in 2000. Lynch led the firm's executive team, which included the CFO, Chief Investment Officers, General Counsel/CCO, and the heads of technology, sales, marketing, and client services, as well as a staff of 40. Before taking on that role, for 10 years Lynch was a Senior Vice President with Bank of America.
An important consideration for the incoming President/CEO of CBS, a Catholic organization that serves faith-based organizations, Lynch serves on several Boards with ties to Catholic education and philanthropy. His firm, Chicago Equity Partners, included Catholic organizations and institutions as clients, including many that are also members of the various trust/plans that are administered by Christian Brothers Services.
At Loyola University Chicago, his alma mater, Lynch was Finance Committee Chair, where he helped to shape strategy for hundreds of millions of dollars in annual revenue. He also works on the university's Executive, Audit, and Compensation Committees, and serves as a Trustee. He served as the Vice Chair on the university's Council of Regents, and is also a member of Loyola's Baumhart Center for Social Enterprise & Responsibility's Leadership Council, which guides the Center's efforts to foster just, humane, sustainable social business practices. Lynch also served as the Chairman of the Board of Trustees and as a Trustee at St. Ignatius College Preparatory School in Chicago; Chairman of the Board of Directors and Board member for the Catholic Education Foundation, and as a Board member at Catholic Charities, both for the Diocese of Joliet.
CBS Board Chairman Brother Joseph Saurbier, FSC, said about Lynch, "After a thorough search and interview process, the Board is confident it has found the right person to lead Christian Brothers Services. Patrick Lynch brings a wealth of experience to the position and is widely recognized as a leader in the banking and financial services industries. He has outstanding knowledge of what it takes to run a successful business in an ethical, people-first manner, as he values fostering long-lasting relationships with his clients and staff. As the first layperson President/CEO in CBS history, Patrick brings a deep respect for, and commitment to, our Lasallian heritage and company mission. His extensive leadership work on Boards for Catholic educational institutions and charities speaks volumes. We believe he will provide CBS with sound, innovative leadership from day one. I am happy to have Patrick join us and I look forward to working with him as does the entire Board."
Lynch will assume the President/CEO role upon the August 31 retirement of Brother Michael Quirk, FSC, Ed.D., who has been in the position since 2008. Under Brother Michael's tenure, the company has seen member growth (both in locations and beneficiaries) in the Trusts and Plans administered by CBS. Consulting services were added to the company's portfolio through the acquisition of Catholic School Management (2014) and BMT Financial Services (2017) and instituting Mission Advancement Consulting (2018). Brother Michael reorganized the company's management structure and merged divisions to increase company operations and to enhance member/client services. "The Board has enjoyed working with Brother Michael throughout his tenure as President/CEO," Brother Saurbier said. "CBS has flourished under his leadership, and we wish him all the best for a well-deserved retirement."
Contact Info:
Matt Robbie
Marketing and Communications Manager
630.378.3092
matt.robbie@cbservices.org
President-CEO_FINAL.pdf
---
About Christian Brothers Services
Founded in 1960 and headquartered in Romeoville, Illinois, Christian Brothers Services is a nonprofit, Catholic organization that administers cooperative programs in the areas of health, retirement, property/casualty, and technology as well as financial, administrative and Catholic school consulting to church congregations, organizations and dioceses internationally.

About Catholic School Management
Founded in 1973, NCEA Financial Consulting Services focused exclusively on finance and development consulting services for Catholic school and diocesan administrators. In 1979 demand for a broader scope of services resulted in the creation of Catholic School Management (CSM). In 2014, Christian Brothers Services acquired CSM's growing operations, making CBS the national leader in consultative guidance for Catholic schools. CSM's team of experts represents more than 500 years of experience in the education field with a focus on strategy, planning and leadership.

About BMT
Founded in 1972 and headquartered in Tarrytown, New York, Brenner, McDonagh & Tortolani, Inc., BMT Management and Financial Consultants was acquired by Christian Brothers Services in 2017. Providing premier consulting services to 280 religious institutes and many sponsored ministries in need of assistance, BMT offers the management of daily operations, including accounting and financial management, benefits eligibility management, human resources, investment consulting and real estate planning and sustainability studies.
Back